Dataset
COVID-19: Impfdaten auf Gemeindeebene (gültig bis 31.7.2022)
| | |
| --- | --- |
| Maintainer | Bundesministerium für Soziales, Gesundheit, Pflege und Konsumentenschutz (BMSGPK) |
| Maintainer Link | https://www.sozialministerium.at/Ministerium/Kontakt.html |
| Maintainer Email | opendata@sozialministerium.at |
| Publisher | BMSGPK |
| Publisher Link | https://www.sozialministerium.at/Ministerium/Kontakt.html |
| Publisher Email | post@sozialministerium.at |
| License | Creative Commons Namensnennung 4.0 International |
| License Citation | Datenquelle: BMSGPK, Österreichisches COVID-19 Open Data Informationsportal (https://www.data.gv.at/covid-19) |
| Attribute Description | |
| Geographic Toponym | Österreich |
| Geographic Bounding Box | WGS84: POLYGON ((9.5 46.36, 17.17 46.36, 17.17 49.03, 9.5 49.03, 9.5 46.36)) |
| Beginning Date/Time | October 29, 2021, 14:14 (+0200) |
| End Date/Time | July 31, 2022, 02:00 (+0200) |
| Update Frequency | täglich |
| Lineage Quality | Quelle: BMSGPK |
| Schema Name | OGD Austria Metadata 2.5 |
| Schema Language | ger |
| Schema Characterset | utf8 |
| Resource title and description in English | COVID-19 vaccinations per municipality |
| ID | d230c9e8-745a-4da3-a3b4-86842591d9f0 |
| Human readable URL | https://www.data.gv.at/katalog/en/dataset/covid-19-impfdaten-auf-gemeindeebene_archiv |
COVID19_vaccination_municipalities.csv

Download

Details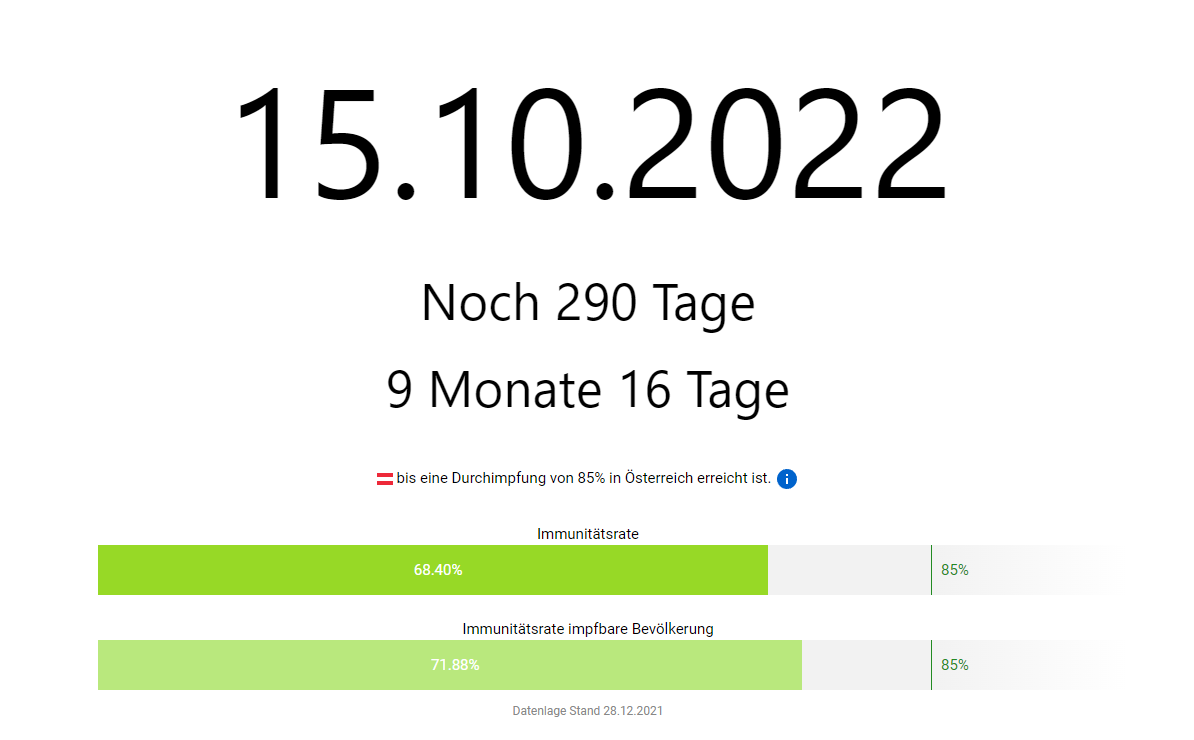 Eingereicht von David Viehtauer, https://pandemieende.at
Diese Seite berechnet das Ende der Corona-Pandemie in Österreich anhand aktueller Zahlen. Fallzahlen, Zahlen zu Impfquote, Inzidenzen, Karten uvm.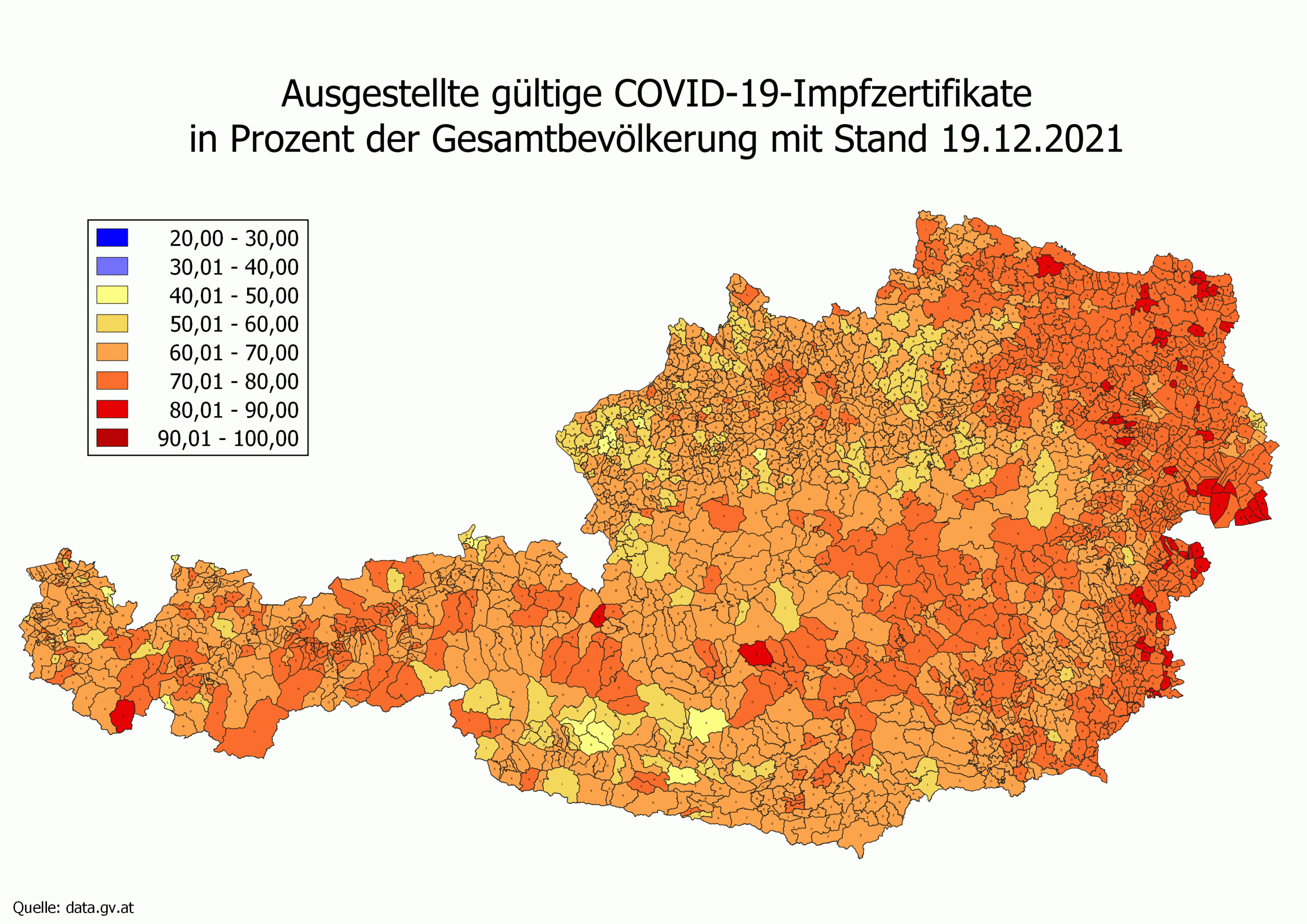 Eingereicht von Wolfgang Dehmer, https://gwschule.net/
Entwicklung der gültigen Impfzertifikate nach Gemeinden Österreichs im Wochenabstand Fortsetzung der bisherigen Visualisierung "Anteil der vollimmunisierten Personen nach Gemeinden"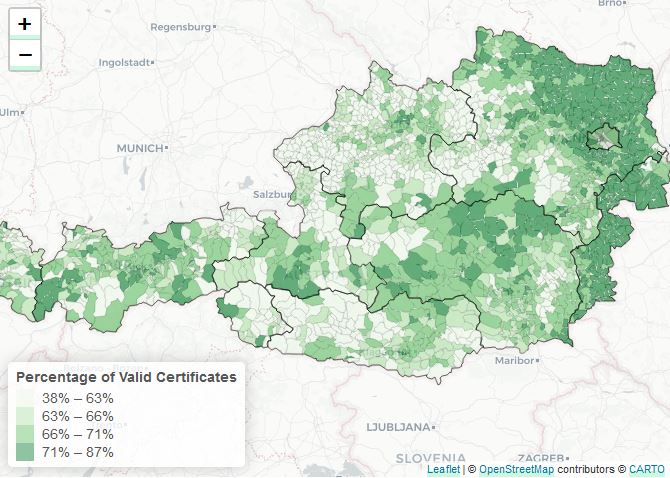 Eingereicht von Sophie Steininger,
The map of Austria below visualizes the percentage of the population with a valid Covid Certificate.

Neue Anwendung zum Datensatz/Dienst "COVID-19: Impfdaten auf Gemeindeebene (gültig bis 31.7.2022)" einreichen