Inhalt
Data.gv.at aims to make all data sets made available in Austria as open administrative data centrally findable (= data from municipalities, cities, federal provinces, federal institutions and outsourced organizations):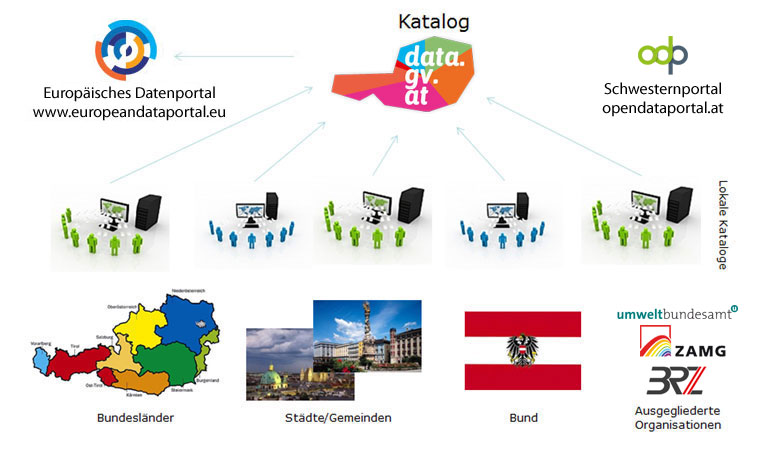 If you are a representative of one of these administrative units and would also like to make your datasets and OpenDocuments discoverable on data.gv.at, please use the contact options below. We will be happy to advise you on how you too can make your data available online and thereby provide your organization with potential added value – such as community-generated applications or visualizations.
In this context, you would also like to refer to the Publication Guide, which succinctly summarizes the most important things that data-providing organizations need to know about publishing open data.

On the other hand, are you a company or NGO/NPO or do you want to publish data as a private person? The Open Data Portal Austria offers everyone a platform to link to NON ADMINISTRATIVE data, to post NON ADMINISTRATIVE data, to use it, and to present services created from it. The Open Data Portal Austria is a joint project of Cooperation OGD Austria, Wikimedia and OKFN.
Please select your contact option depending on your concern:
If you want to publish data on tenders or BVergG 2018 and BVergGKonz 2018, metadata and core data according to Annex VII and Annex VIII, please click here for more information.
If your request refers to open data apart from tenders or BVergG 2018 and BVergGKonz 2018, please click here.
Teilen
2 Klicks für mehr Datenschutz: ein wesentliches Open Data-Prinzip besagt, dass keine Daten veröffentlicht werden dürfen, die einen Rückschluß auf einzelne natürliche Personen zulassen. Ein ähnliches Prinzip zum Schutz persönlicher Daten wird auf data.gv.at bei Teilen-Buttons für Social-Media-Netzwerke verfolgt: da diese Teilen-Buttons allein beim Laden bereits Daten übermitteln, bieten wir Ihnen die Möglichkeit der Selbstbestimmung - Sie können selbst entscheiden, ob ein Teilen-Button aktiviert werden soll oder nicht.