Inhalt
News
New interactive visualization available: The data from data.gv.at
The range of applications offered by data.gv.at has been enriched by a visualization. However, the new display does not deal with a single data set, but visualizes the entire inventory. To do this, it uses the detailed metadata available for the various datasets.
Different graphics interactively show several perspectives on the data, starting from the publishing bodies to thematic focal points to the temporal extent. The applications that use the available data are also included. Together with the data sets used, this results in a widely ramified network of "raw" data and its practical applications.
The visualization is available at https://www.drawingdata.net/datagvat.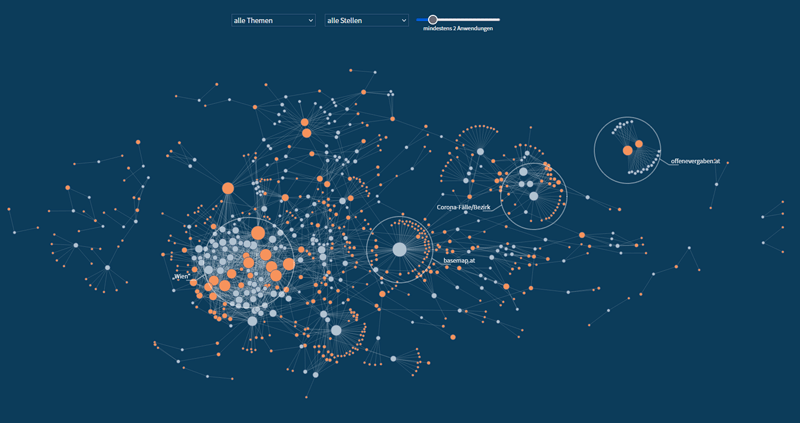 Newsletter
Newsletter abonnieren: Wenn Sie per Email über neue Beiträge oder Applikationen informiert werden möchten, geben Sie dies bitte mit folgendem Formular bekannt. Ihre Email‑Adresse wird nicht an Dritte weitergegeben.
Teilen
2 Klicks für mehr Datenschutz: ein wesentliches Open Data-Prinzip besagt, dass keine Daten veröffentlicht werden dürfen, die einen Rückschluß auf einzelne natürliche Personen zulassen. Ein ähnliches Prinzip zum Schutz persönlicher Daten wird auf data.gv.at bei Teilen-Buttons für Social-Media-Netzwerke verfolgt: da diese Teilen-Buttons allein beim Laden bereits Daten übermitteln, bieten wir Ihnen die Möglichkeit der Selbstbestimmung - Sie können selbst entscheiden, ob ein Teilen-Button aktiviert werden soll oder nicht.